Everyone who plays baseballs goals it to hopefully play in the biggest stadiums, in front of the biggest crowds, and to have the nicest things. One thing that also helps to get guys to schools is how nice the field is where they are going to play. Well look no further. Here is the Top 10 NJCAA Division 1 fields (15 if you count the honorable mentions.)
HM- Coffeyville (Kansas)
HM-Connors (Oklahoma)
HM-Hutchison (Kansas)
HM- Meridian (Mississippi)
HM- Soutern Union-
#10-Weatherford (Texas)-Roger Williams Ballpark
These guys are just outside of Dallas. The Surface is the Bermuda hybrid 'Sea Isles" which is the same that is used on both the Astros and Rangers field. With completely covered bleachers that can sit about 800 people, along with lights. With huge dugouts on both sides of the field whether you are the home or away team there will never be a time when you are cramped in the dugout. Just to add to it the Trees lining the outfield make you feel like you are not really in a suburb of Dallas.
#9 Garden City (Kansas)-
These guys honestly Surprised me. The few times that I have been to Garden City I honestly wasnt that impressed. If I had known then that this was their maby that would have changed what I though. With amazing looking grass, a solid infield the surface of this field looks outstanding. Add the Lights, decent sized stands, and a turfed bullpen and you have one of the top facilities in the country.
#8 Johnson County (Kansas)-
Another school from Kansas makes the this. With a fully turfed field that was put on in 2013 Johnson County's playing surface is one of the best. With a 400 ft CF wall and 320 down each line this is a big boy. They have some a solid amount of seating makes this a great place to stop and watch a game.
#7 Butler (Kansas)- McDonald Stadium
The 3rd straight school from Kansas Butlers Facilities are awesome. With a turf infield and a grass outfield you get the best of both worlds. Their stands sit about 1000. With a "Short porch" in right at only 303 ft and then a 390 CF fence and a 323 Left any power hitting lefty would love to play here. This stadium is also home to the El Dorado Baseball Hall of Fam & Museum. To go with their field they have a top of the line training facility.
#6 Blinn (Texas)- Leroy Dryer Field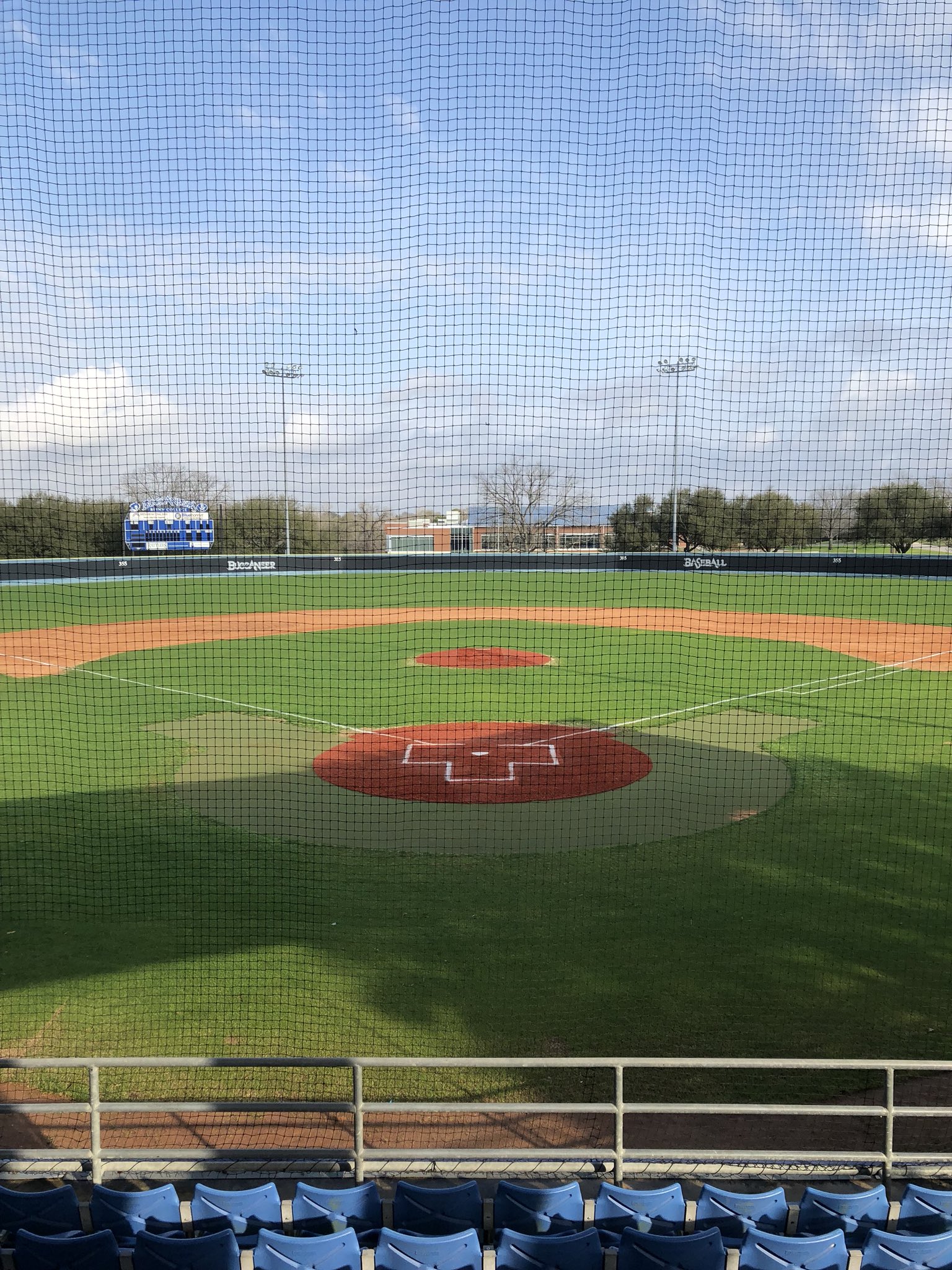 Build in the late '80s this field has stayed one of the top in the country. 325 down each line and 375 in dead center. With the backdrop of the trees this field is a master piece. The playing surface is also among one of the top in the country rated by an expert as one of the top 1% playing surfaces in the country. For the fans Leroy Dryer has roughly 660 cover seats along with concession stands, and rest rooms.
#4 Delgado (Louisiana)- Kirsch-Rooney Stadium
This is one of the Oldest Juco Fields in the Country being built-in 1957. This stadium has survived Katrina along with countless other events. Hosting games year round this is on of the go to spots for baseball in Louisiana. 325 down each line and 400 in dead center. The stand here hold about 1000 fans. With Natural grass surface and the lights this is where you want to spend a Friday night in New Orleans (if you're wanting to watch baseball that is.)
#4 San Jac (Texas)- The John Ray Harrison Field at Andy Pettitte Park
San Jac is the most succesful JuCo in the country. Countless trips to grand junction, countless guys going to the next level, tons of big leaguers. This field is Outstanding. Amazing surfaces, Lights, and the atmosphere that comes with playing there is like no other. They play host to the biggest JuCo tournament every year "The Tournament of Champions" that brings some of the best teams from across the country to one spot for 4 days. On top of all this the baseball facilities they have here are next level. Indoor cages, Locker rooms this is a top-notch place to land if you're wanted to go the JuCo route
#3 Southwest Tennessee (Tennessee)- USA Stadium
Here is another history Juco field. Between 1986 and 1996 this was the training ground for USA Olympic Team along with hosting 16 NJCAA D2 World Series. With a Tree backdrop, and being in Tennessee this field is beautiful inside and out. Coupled with the history that this field has it is a great combination. With seat for at least 1000 this is would be a great place to play and see a game.
#2 Midland (Texas)- Christensen Stadium
Right off the loop in Midland you drive past this beauty. The former home of the Midland Rockhounds this field is another timeless classic. With a Turf infield and a grass out field it is kept up well. They share this field with a private school in town. Seating form at least 1000 there is more than enough room for everyone in town to come watch. The dugouts are huge, the bullpen's are great, not to mention a much-needed for west texas winters indoor hitting facility. It is easy to see why midland has had success in recent years and why this is a destination from players in west Texas.
#1 Florida State Southwestern- City of Palms Park
Any time you are in Florida the surroundings are going to be breath-taking, but throw a baseball field into that and you have in my opinion the best Juco baseball field in the country. This is another school that has gotten their field from someone else. This use to be the old Red Sox Spring Training Facility and still plays host to many different baseball games year round. With 8000 seats, an MLB level playing surface, and being in Florida this field would make even some Division 1 teams jealous.